Australian university degrees are highly regarded and give you internationally recognised qualifications. One motivation to get a degree is that people with higher education qualifications are less likely to be unemployed, and also have higher incomes than those without such qualifications (Australian Bureau of Statistics).
Different universities may specialise in different areas, so check out uni websites for a list of courses available. You can put off the cost of university fees by applying for a Higher Education Loan Program (HECS-HELP). This way, the cost of attending university is put off until you are earning a much higher wage, sometimes years after finishing your degree.
Universities usually have a "Census" date that is a few weeks after the beginning of each semester. This allows you to enrol in a degree to try it out. If you find out  that university is not for you, you can withdraw before the Census date without any costs. However if you decide are not going to continue studying for the course you have enrolled in, it is important to withdraw your enrolment, as there can be large fees and fines not withdrawing after the Census date.
Click here for a state-based search of universities:
www.australian-universities.com
The Good Universities Guide
This guide helps you to locate Universities with the types of courses you are looking for and lists vital information for any prospective students about campuses and courses. It is also a good way to find out the contact details of universities across the country. Copies of The Good Universities Guide are available at Secondary Schools or can be purchased through the website.
www.thegoodguides.com.au
Help with uni for young people with a care experience
Victoria
In Victoria the Raising Expectations project is helping to increase the number of young people leaving care and mature care leavers going to uni.
At the moment there are over 300 care leaver students studying vocational and higher education courses at Federation University Australia, La Trobe University and Swinburne University of Technology across 13 campuses.
Together, the universities and the Centre for Excellence in Child and Family Welfare partner to ensure that young people with a care experience get the information, support and services necessary to access and succeed in higher education.
To find out more about your options or to ask a specific question about further study, visit www.raisingexpectations.com.au/chat
You can also follow Raising Expectations on Facebook to keep up to date with the program.
Skills First Youth Access Initiative – fee-free access to 800+ TAFE courses for care leavers
If you are in care, or have been in care and are under 25 years of age, you may be eligible for The Skills First Youth Access Initiative.
This allows you to study VCAL/VCE through to Advanced Diploma level courses and pay no tuition fees on over 800 eligible courses. For more information, call the TAFE and Training Line on 131 823 or visit the website.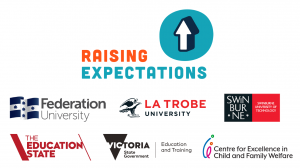 New South Wales
Western Sydney University, CREATE Foundation and Aon Charitable Foundation have teamed up to help create opportunities for young people who have experienced out of home care. They recognise challenges are faced by these young people which affect their school, university, work and family life. Different opportunities are being created for young people to help reach their potential in education, work and the community. Some of these opportunities include finical support with Western Sydney University now offering a variety of scholarships for young people who have experienced out of home care. These scholarships include:

Northern Territory
You can apply for a higher education scholarship.
Queensland
TAFE Queensland also provide a variety of different pathways to get into the university course you want. Check out their university pathways guide or their website for more information on courses and how to apply.