Hello again,
Today despite the very chilly weather and rain I made my way to Edinburgh Castle – high on the hill. It was an amazing view and the castle is steeped in history. Finding our way to the hop on and hop off bus was the best move. Nice and warm, free of rain and wonderful commentary about the local sights.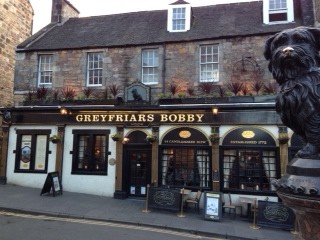 One of the moving stories is about Greyfriars Bobby – A little dog who was so loyal to its owner that when the owner died little "Bobby" sat by the grave all day and he went to the local shops / butchers to get scraps to live off. When Bobby passed away they decided to make a statue of him which is pride of place outside of the old pub named after him. You'll notice that the statue has a very shiny nose – its tradition for tourists/locals to rub Bobby's nose for good luck. What a great story!
The BAPSCAN conference started in the afternoon and I got to hear a great range of speakers including an amazing woman with a care history who has written some compelling poetry and recited it for everyone. I met her after the plenary and she graciously signed a copy of her book for me which I will share with everyone when I return. She also agreed that we could share the poems at our conference!
There were a number of influential researchers and presenters from Australia which was great to see – we caught up with Caroline Carrol from Open Places (Forgotten Australians), Stella Conroy from Families Australia, Prof Bob Lonne from QUT, Dr Fiona Arney from Uni SA – Australian Centre for Child Protection. There are others that were not there today so  hopefully tomorrow we can catch up. So, day one of the conference was a success and I am looking forward to tomorrow.
Thanks for reading,
Jacqui Reed