Hello again!
I returned to Hull to visit with the young people from Freedom Road, a creative arts group. Some of you may remember Freedom Road visiting Australia for our first ever Summit in Sydney.
We were treated to a performance by a group of young people who sang and played guitar accompanied by Ian and Lisa.  We shared a lunch of delicious pizza and I got to catch up with young people who came out to Australia for the Summit which was really great.  I also got to meet young people with a care experience and hear their stories. I am amazed at their resilience and ability to transcend adversity to become such strong and capable young people post care. It was a highlight of my trip so far.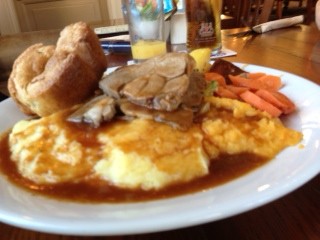 I met a cab driver who shared with us his recipe for "Yorkshire Pudding" a delicacy created in this part of England that is eaten with the traditional Sunday Roast. Yorkshire puddings are like pastry that is really light and fluffy and is served best with lots of gravy (like in this photo).
His recipe is as follows:
Heat oven to 220 degrees (180 fan forced)
Grease/oil muffin tray and place in oven until very hot
Mix in blender: 2 cups plain flour, 2 cups of milk and 2 eggs
Pour mixture into piping hot muffin tins, fill to the top
Put muffin tray filled with mixture into the oven for 12 to 15 mins
Later on, I met with Ian, Kay, Craig and Sarah for dinner and had a wonderful meal and learned a lot about the English "Looked After Children" system and the current issues facing young people.
On Easter Sunday we took a look around the city of Hull and visited "Old Town" which is very quaint and filled with amazing history.
Our next meeting was with two young people, Chiquita and Jess, who met with us for coffee and we visited the Transport Museum. The museum was a great venue filled with interesting historical artifacts – old tram cars, vehicles and bicycles. It was great to see the girls and catch up with them (they had been out with Freedom Road to Australia for our Summit). We hope to see Jess in Oz in the near future as she is planning a visit!
To say thanks to the young people I took some Aussie souvenirs – have a look at Ian and I in our tragic hats (complete with corks!)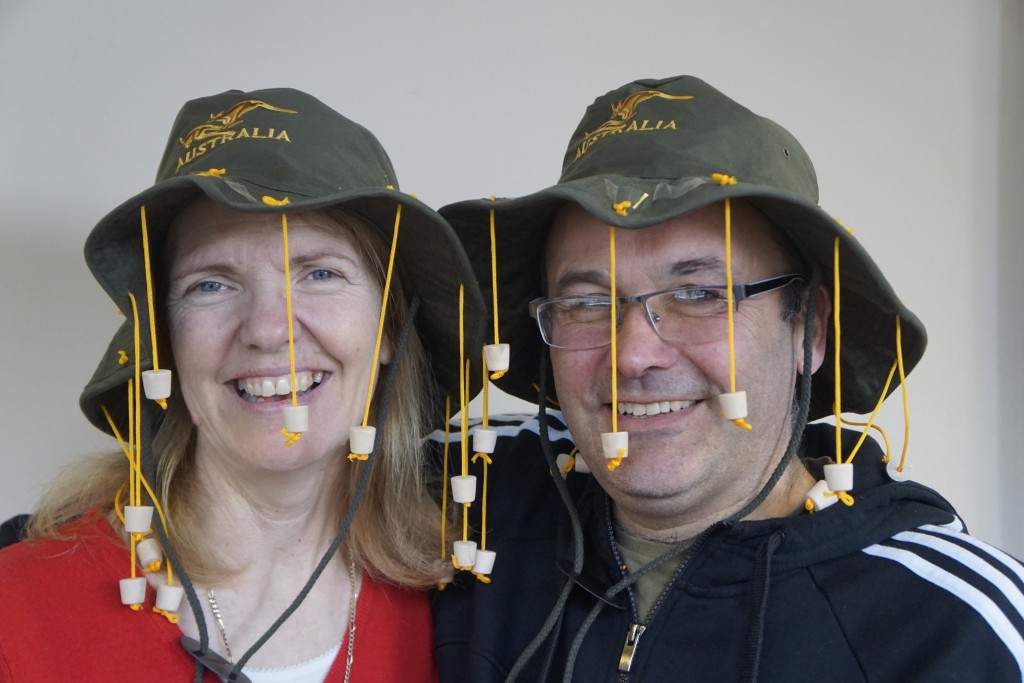 After visiting old town we took a ride out to the Humber Bridge and remarkably the sun was out and we got some great pictures.
Until next time, I will leave you with a photo of my random Transformer sighting!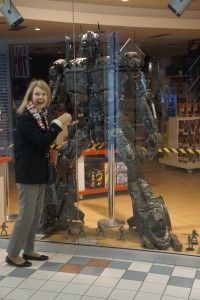 Jacqui Reed