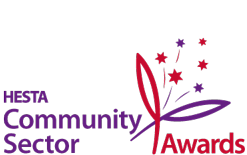 Jacqui Reed is one of five finalists in the Social Impact category of the 2015 HESTA Community Sector Awards. The Awards recognise those in the community sector who made an exceptional contribution to social justice in Australia by enhancing the wellbeing of disadvantaged individuals and communities.
Jacqui has worked to raise awareness of the needs of young people in out-of-home care, secured vital program funding and established programs to provide young people with the skills they need to lead successful independent lives. Jacqui is also responsible for the development of research methodologies to engage directly with young people and oversaw the first benchmarking survey measuring the impact of national standards in out-of-home care.
The winner will be announced June 26th so hold tight for an update!